Hardscapes
A New Dimension to Hardscapes and Paving Paths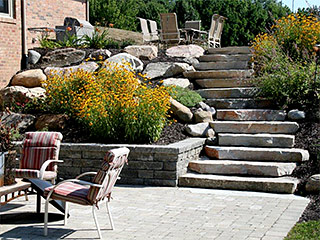 Thrasher Landscape, Inc. has been creating beautiful and long-lasting hardscapes for residential property owners in the state. Our decades of experience in the industry have helped us become experts in hardscape design and installation. Our impressive portfolio is our proof that we can create your dream outdoor features at costs that won't hurt your pockets. We have the resources, skilled manpower, and the experience needed to handle all kinds of masonry and concrete features in your property. In fact, we have already built countless hardscape amenities for residents of Springville, Bloomington, and surrounding areas.

Please call us today at (812) 325-4594, and let us show you why we are one of the leading hardscape builders in Indiana.


Seasoned Hardscape Installers
Choosing Thrasher Landscape, Inc. for all your hardscaping projects is a wise decision. We have the expertise, experience, tools and equipment, and highly skilled manpower. With these resources, we can easily and efficiently complete any kind of outdoor improvement project on time. We also guarantee the quality of our workmanship regardless of the project's scope and requirements. Our past clients from Bloomington and surrounding areas can attest to our competency in building functional and beautiful hardscapes – whether patios, decks, retaining walls, or driveways. We never do guesswork when working on a project or get inexperienced people just to facilitate the completion of a certain task. As seasoned hardscape installers in Indiana, you can always expect excellently built outdoor features from us.

When working with hardscapes we offer the client a large number of designs and materials to work with. Since it is your home, you have the freedom to choose the kind of pathway that you want. If you cannot decide, then we can step in and beautify your home using our own ideas. We offer the best material, like Belgard Hardscapes, but if you want something lower range then we can arrange for that as well. So, you do not have to worry about even the best hardscapes exceeding your budget.


Top-quality Pavers for Your Hardscapes
Pavers are the most preferred masonry materials for hardscapes. They can be used on almost every hardscape feature in your landscape or outdoor space. We recommend these materials because of their durability, long-lasting quality, and affordability. The paver products that we use are proven top-quality and sourced only from leading hardscape manufacturers in the country. They provide us with a wide range of paver designs, colors, sizes, and finishes. With the large paver collections that we have, we can easily achieve custom designs that reflect your personality or lifestyle. We can also follow popular paver themes such as Old World, Mediterranean, contemporary, and modern.

Our company employs certified pavers installers and well-experienced crews, so we can handle all kinds of paving projects in residential properties. Meanwhile, the hardscapes that we can design and build for you include but are not limited to the following: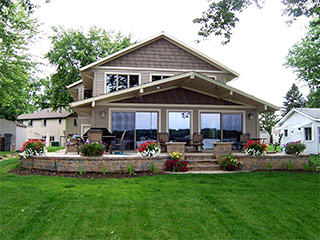 Patios
Driveways
Walkways
Pool decks
Garden steps
Courtyards
Entryways
Outdoor living areas
Custom-Designed Hardscape Features and Amenities
Thrasher Landscape, Inc. is capable of creating unique and custom-designed hardscapes. We ensure your complete satisfaction by considering your needs and preferences when crafting the design plan. From helping you choose the right color and finish to selecting the best location for your desired outdoor features, you can always rely on our expertise and undivided attention to your project. Our in-depth knowledge of the latest landscaping design trend also helps us create extraordinary outdoor features and amenities. We encourage you to browse our hardscape portfolio to see how we design every amenity that we build for clients. You may also dial our hotline to discuss your ideas with one of our hardscape specialists.


Click on the images below to view a larger display.


Photo 1

Photo 2

Photo 3

Photo 4

Photo 5

Photo 6
We service Bloomington, Indiana.